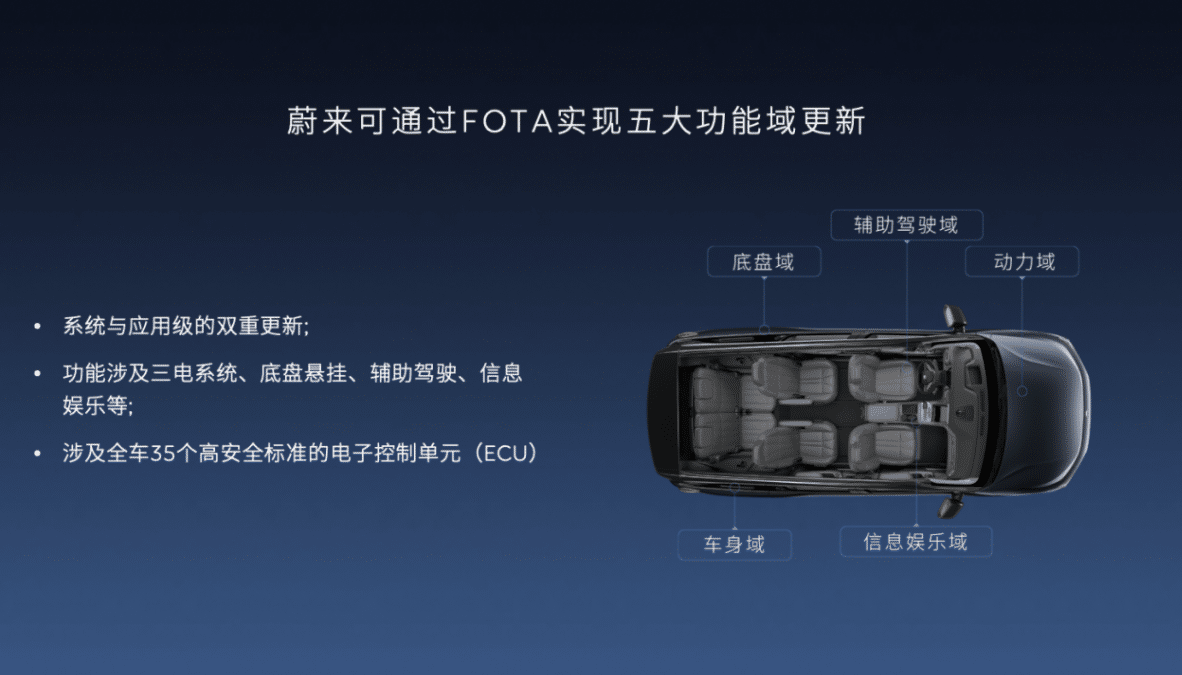 On October 31, the NIO FOTA remote firmware update feature celebrated its second anniversary.
Since its launch in 2018, NIO FOTA has achieved 39 version iterations, covering all four of the brand's production models.
It has added a total of 131 new features, optimized 280 features, and has been pushed over 350,000 vehicles.
On Oct. 10, NIO pushed the Pilot Assist function through FOTA.
OTA (Over-the-Air Technology) is a method of downloading data packets over a wireless network in order to update the system.
This technology has been widely used in mobile phones and other IT equipment for a long time. With the development of Telematics, OTA has been rapidly applied in smart cars.
NIO delivers 5,055 vehicles in October, up 100.1% year-on-year
OTA is mainly divided into two types, FOTA (Firmware Over The Air) and SOTA (Firmware Over The Air), which focuses on the firmware upgrade of the terminal, through which the overall improvement of the system-level experience such as power, control, driving quality and driving assistance of the vehicle can be realized.
SOTA (Software Over The Air), which focuses on the application software upgrade.
With the increasing demand for smart car functions, software definition and development are becoming more and more important.
FOTA has become a great way for OEMs to quickly iterate on product features, update and maintain system defects, and is now almost a must-have feature for smart connected vehicles.
Due to the different degrees of independent development and control of various systems in the market, most of the low-end and mid-range vehicles in the market only support remote software upgrades of UI interface, navigation map, and audio/video entertainment system.
Could NIO's upcoming sedan be a formidable rival to Tesla's Model 3?
Mid-high-end vehicles pay more and more attention to the continuous improvement of the cabin, body, chassis, and ADAS system functions in addition to the entertainment system.
By relying on the self-developed core domain controller, NIO FOTA is able to implement firmware upgrades to the 35 electronic control units (ECU) of the vehicle, including updating the functions of the power domain, chassis domain, driving assistance domain, infotainment domain and body domain.
According to NIO, several of the more significant recent updates have resulted in significant improvements in the car's driving performance.
In October 2019, an energy-saving mode with a 100 km/h acceleration time of 9.9 seconds has been added to NIO OS 2.3.0. the ES8's city range can be improved by about 10% in this mode.
In December 2019, a snow mode with a 50:50 front to rear-wheel torque ratio is added to NIO OS 2.5.0.
NIO founder addresses misconceptions about battery swap mode
In October 2020, NIO pushes Pilot Assist via FOTA.
Before these updates are pushed, it is critical to test the functionality of the software package. Every software version released to the public undergoes four major phases of integration testing: bench testing, full bench testing, road testing, and user scenario testing.
If there is an exception in any of the test phases, the software version is redefined and re-tested throughout the entire process.
NIO's ability to achieve OTA for the entire vehicle is supported by its advanced electrical and electronic architecture, which incorporates an Ethernet communication architecture with transmission speeds of up to 1000MB/S and a high-performance gateway for continuous learning and rapid upgrades.
According to NIO, it adopts the "hardware reservation" strategy commonly used in the industry, so that the earliest car models can still support the function iteration after many updates and enrichment.
NIO establishes 'Marco Polo Project' to accelerate entry into overseas markets
In addition, FOTA's safety information policy is also crucial. All OTAs must be fully secured from the cloud to the vehicle to ensure data security.
NIO manages the security of the five segments - firmware, software package, system services, basic network, and vehicle terminal - by multiple means.
Uniform certificate/key management, signing, encryption services, and an end-to-end secure interface ensure the best possible success of the FOTA push.
After the release of the package, NIO also has a rapid response mechanism including active sensing in the background to ensure the quick and safe resolution of the product upgrade problem in case of rare write failures.
Different car companies also have different strategies for the OTA delivery method.
NIO says it is the first auto brand in the world to realize large-scale FOTA through independent research and development. Unlike Tesla and other auto companies that adopt the supplier package solution, autonomous FOTA can complete tasks such as fault repair and function update more systematically and quickly, avoiding the complicated process of supplier coordination, development, and re-validation, as well as the excessive loss of time and manpower costs.
At the same time, FOTA feedback data is also an important source of development requirements for car companies, if the supplier is responsible for it, many of the most direct customer feedback will be lost, and it is difficult to respond well.
NIO, Li Auto, XPeng, WM Motor, which is the most competitive?
NIO proposes a set of Debug system, where users can give feedback through multiple channels including NOMI in-vehicle AI system, NIO APP, NIO Fellow, 400 hotline, and NIO House so that the R&D team can more intuitively understand users' demand for new features and ensure that the product features permeate users' car contacts.
Obviously, this kind of software-driven R&D system with user experience as the core makes it easier to achieve a complete closed-loop from R&D to user end. For example, in NIO OS 1.0 to 2.0, as well as the new light-colored theme in version 2.6.5, feedback from users has been taken into consideration.
Achieving a balance between rapid functional iteration and stable and secure upgrades through FOTA is inseparable from NIO's integrated R&D capabilities and FOTA's systematic construction and standard process operation.