Steven Zhao, former vice president of user center at Nio, has joined Great Wall Motor at the end of March as general manager of user center at Great Wall Sales, AUTO-time said, citing sources.
Zhao served as Vice President of User Center at Nio Automotive from March 2017 to May 2019, where he was responsible for the expansion of NIO HOUSE, exploring ways to maximize user benefits through branded experience stores.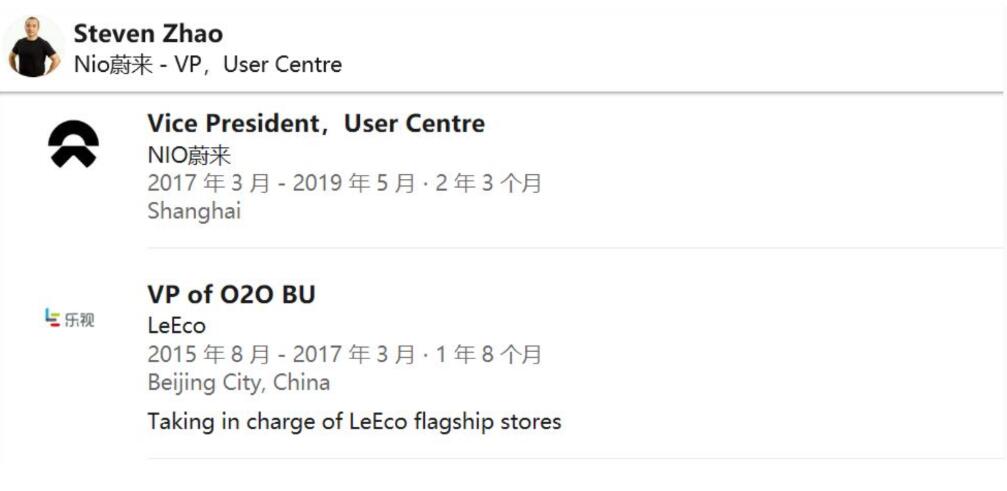 He has said that Nio's approach to brand communication is no longer the traditional funnel model of car sales, but to influence its surrounding users through its core users.
Sources said that the position of general manager of the user center of the Great Wall Sales Company is a newly established position of Great Wall Motor, and in terms of organizational structure belongs to the Great Wall Motor Sales Company, reporting to Li Ruifeng, vice president of sales of Great Wall Motor.
A headhunter revealed that Great Wall Motor asked for the post to be filled only by Nio.
Future Auto Daily has learned that rumors are circulating within Great Wall Motor that the digital marketing department of the Great Wall Sales Company may be moved under this new leader.
This department belongs to the platform department of Great Wall Motor Sales Company, previously managed directly by Li Ruifeng, mainly responsible for public opinion monitoring, development of netroots KOL, forum organization and car club operation.
Informed sources revealed that Wei Jianjun, chairman of Great Wall Motor, has an obvious interest in new retail, he appreciates the Nio car experience store model, believes that with the traditional online advertising, 4S store to buy cars in a different way, the future of car sales need to strengthen user operations through the experience store, the user gather together, improve user stickiness and trust in the brand.
He said that how to retain and activate users is Wei Jianjun's biggest concern.
A Great Wall Motor insider confirmed that Wei Jianjun has always attached great importance to the car new retail business, has repeatedly visited byte-hopping and other head Internet companies.
CnEVPost Daily Newsletter