CATL's operating costs rose 199 percent year-on-year to RMB 41.6 billion in the first quarter due to rapidly rising upstream raw material prices.
Chinese power battery giant Contemporary Amperex Technology Co Ltd (CATL, SHE: 300750) today reported first-quarter earnings that appeared to miss expectations after its shares plunged this month.
The company reported revenue of RMB 48.68 billion in the first quarter, up 154 percent from a year ago and down 15 percent from the fourth quarter of last year.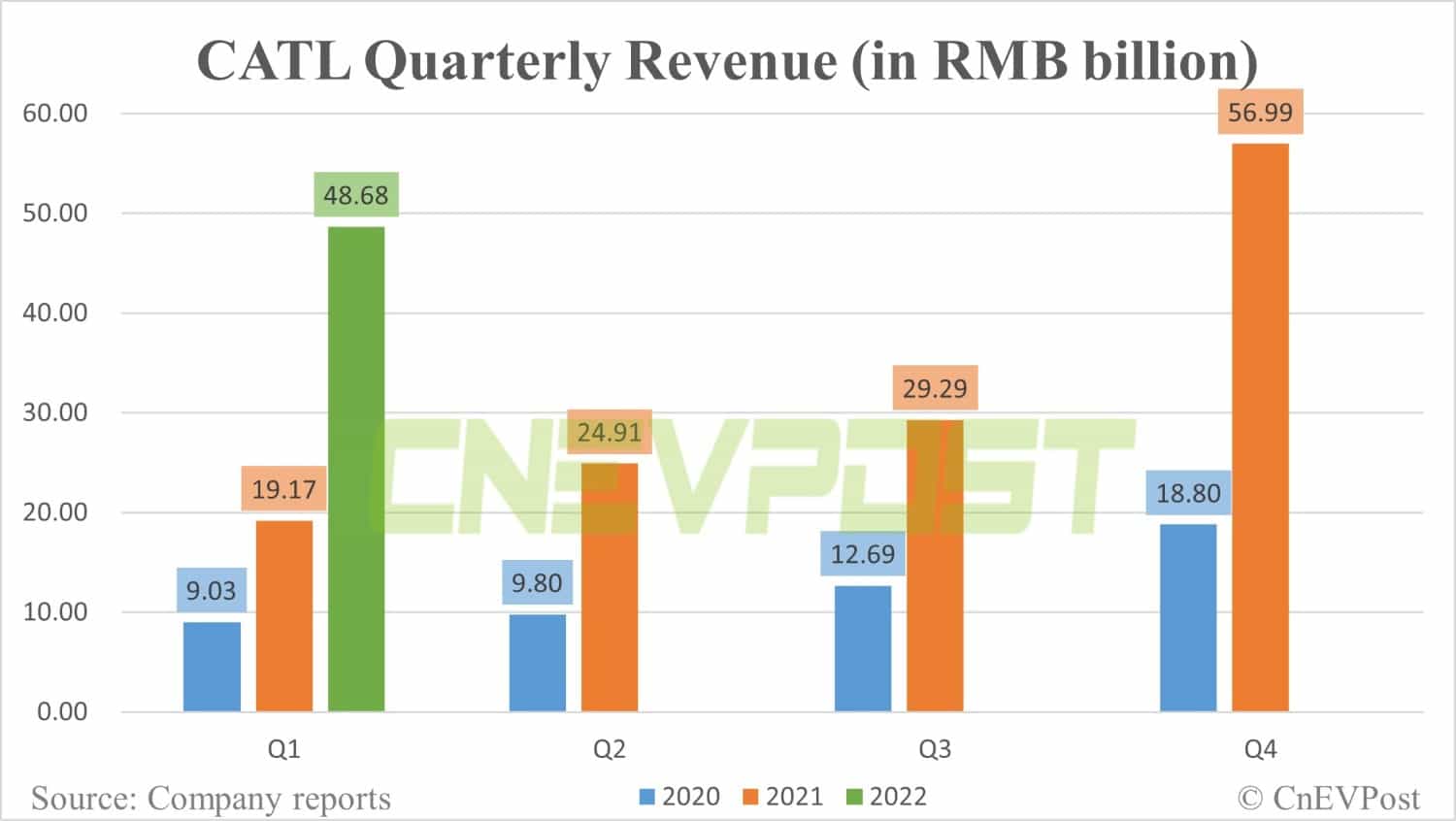 Its net profit attributable to shareholders of the listed company in the first quarter was RMB 1.49 billion, down 24 percent year-on-year and 82 percent lower than in the fourth quarter of last year.
CATL shares plunged 7.55 percent on April 20, which the Shanghai Securities News reported at the time said may have been due to earlier rumors that the company's earnings in the first quarter were expected to be lower than the RMB 5 billion widely expected by the market.
Shanghai Securities News previously cited unnamed analysts as saying that there was only one possible reason for CATL's lower-than-expected results, and that was their failure to shift the rise in lithium carbonate prices in a timely manner.
"It's hard for us to comment on the rumor, but one thing is for sure, and that is that the surge in upstream battery raw material prices has transmitted the pressure to mainstream battery makers like CATL," automotive industry analyst Mei Songlin previously said.
The rise in raw material prices will be further transmitted to electric vehicle companies in the future, and consumers will likely face another wave of NEV price increases, Mei said.
And those rumors appear to be proving true, according to data released today.
CATL's operating costs in the first quarter were RMB 41.6 billion, up 199 percent from RMB 13.9 billion in the same period last year.
Rapidly rising prices for some upstream materials caused the cost increase, the company said.
After excluding non-recurring gains and losses, CATL's net profit in the first quarter was RMB 977 million, down 42 percent from a year earlier.
It reported basic earnings per share of RMB 0.6439, down 24 percent from RMB 0.8463 in the same period last year.
CATL's shares traded in Shenzhen are down 20 percent so far this month, despite a 5.6 percent gain today.