Jianghuai Automobile Group (JAC), NIO's auto manufacturing partner, sold 8,075 electric passenger vehicles in August, up 89 percent from a year earlier and down 33 percent from July, according to data released Wednesday by the company.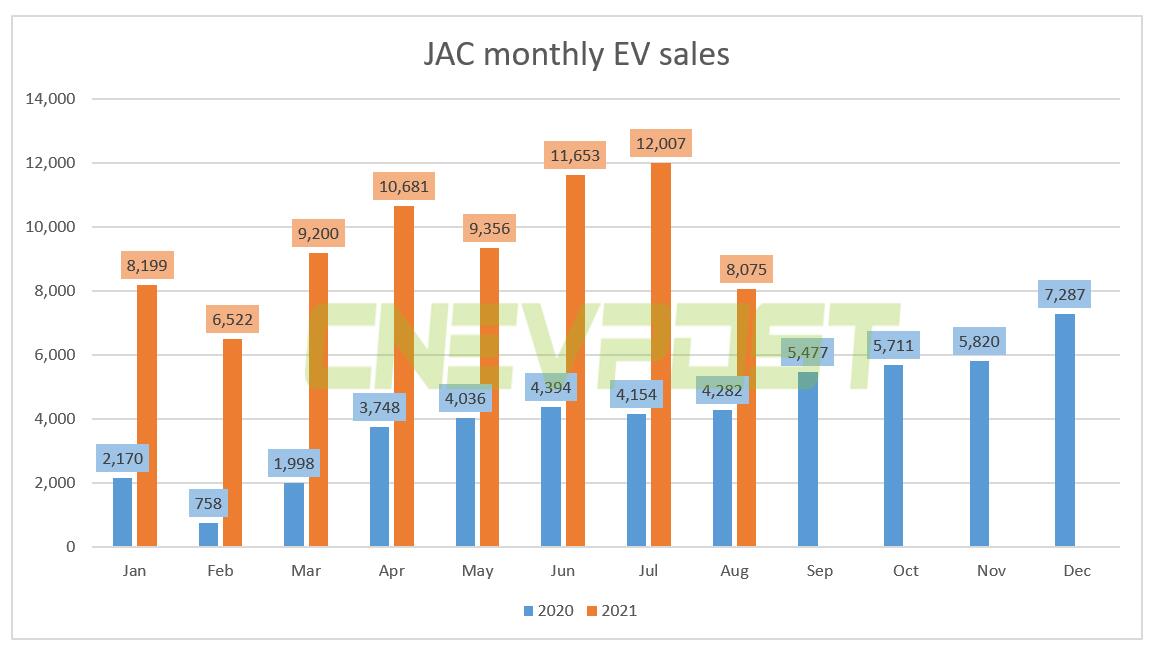 (Graphic by CnEVPost)
From January to August, the company sold a total of 75,693 electric vehicles (EVs), up 196 percent from a year earlier.
The company sold 30,412 all cars in August, down 27 percent from 41,569 a year earlier. It sold a cumulative total of 354,631 all cars in January-August, up 23 percent from a year ago.
The company produced 7,619 EVs in August, up 92 percent from 3,975 in the same month last year. It produced a cumulative 74,737 EVs in January-August, up 192 percent from a year earlier.
JAC did not specify, though as is industry practice, its EV sales figures should include NIO vehicles.
NIO's deliveries in August fell from the previous month due to the severe impact of Covid-19 on its supply chain.
NIO delivered 5,880 vehicles in August, up 48 percent year-over-year and down about 26 percent from July. This is a new low for NIO deliveries since February, when NIO delivered 5,578 vehicles.
JAC signed a five-year contract with NIO in 2016. The two signed a contract to establish Jianglai Advanced Manufacturing Technology (Anhui) Co on March 27 this year.
CnEVPost Daily Newsletter