Sinopec, which is transforming itself into a comprehensive energy service provider, is accelerating its footsteps in the hydrogen energy sector.
The company's project to supply hydrogen for hydrogen fuel cells in Maoming, Guangdong province, has started construction recently, which the company said is the largest of its kind in Guangdong, eoo.com.cn reported Wednesday.
The project, with a total investment of RMB 62.44 million ($9.7 million), includes a new hydrogen purification plant with a design size of 3,000 standard cubic meters per hour and a hydrogen refueling mother station with a supply capacity of 500 kilograms per hour.
The construction of the project will be based on Sinopec's in-house developed technology, which occupies less land and consumes less energy, and is expected to be completed and put into operation in the first quarter of next year, according to the report.
According to the China Hydrogen Energy Alliance, China's annual demand for hydrogen will reach about 37.15 million tons by 2030, accounting for about 5 percent of energy consumption.
By 2060, China's annual demand for hydrogen will increase to about 130 million tons, accounting for about 20 percent of energy consumption, according to the forecast.
Sinopec said late last month that it will make hydrogen energy the main direction of its new energy business and has already made breakthroughs in hydrogen refueling stations, hydrogen production technology, hydrogen fuel cells and hydrogen storage materials.
It is now the largest hydrogen producer in China, with an annual hydrogen production capacity of more than 3.9 million tons, accounting for about 11 percent of the country's hydrogen output.
It now has 22 hydrogen refueling stations in 14 regions in China.
Sinopec expects the number of new hydrogen refueling stations to reach 100 this year and the number will be 1,000 by 2025, the company said at its interim results conference on August 30.
Sinopec expects to build 100 new hydrogen refueling stations this year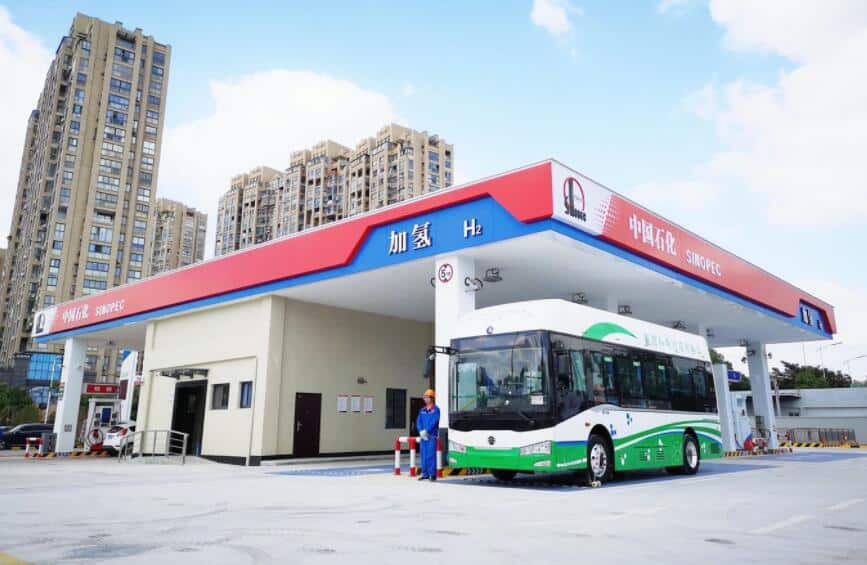 (Photo source: Sinopec)