Great Wall Motor sold 12,163 new energy vehicles (NEVs) in August, up 147 percent from a year earlier and 68 percent from July, according to data released by the company on the Shanghai Stock Exchange.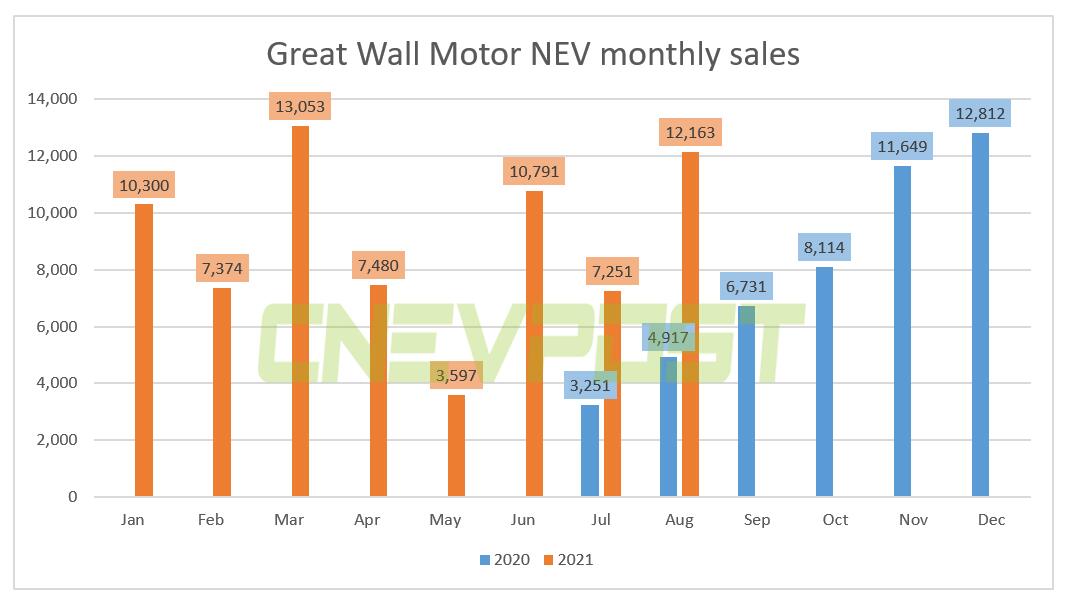 (Graphic by CnEVPost)
The company said it sold a total of 71,961 NEVs from January to August. It is worth noting, however, that CnEVPost's calculations show that it sold a cumulative total of 72,091 units during that period.
Its cumulative sales figures for the year, announced in June, were consistent with our calculations, but both July and August's cumulative figures were 48 units less than our calculations.
The company's electric brand, Ora, sold 7,251 units in August, up 137 percent from 3,064 units in the same month last year.
Cumulative year-to-date sales of the Ora brand were 59,798, up 378 percent from 12,500 a year ago.
Great Wall Motor sold 74,257 all cars in August, down 19 percent from 91,555 in July. Its cumulative sales from January to August reached 784,023 units, up 39.3 percent from the same period last year.
The company's production and sales in August were affected by a sharp drop in the supply of Bosch ESP and other parts due to the Covid-19 in Southeast Asia, it said on its official WeChat account.
Great Wall Motor sold 12,399 new vehicles in overseas markets in August, up 81.1 percent year-on-year. It sold 86,509 units overseas in the January-August period, up 156.8 percent year-on-year and accounting for 11 percent of total sales.