BYD's sales soared in August, making it one of the few car companies not suffering from a chip shortage. The company's shares traded in Shenzhen surged Monday.
BYD rose 6.84 percent to 271.48 yuan by the close of morning trading Monday. If that rally continues into the close, it would be the stock's biggest one-day gain since August 4.
Notably, stocks in China's new energy vehicle industry have generally pulled back over the past month, with BYD falling 15 percent between August 6 and September 3.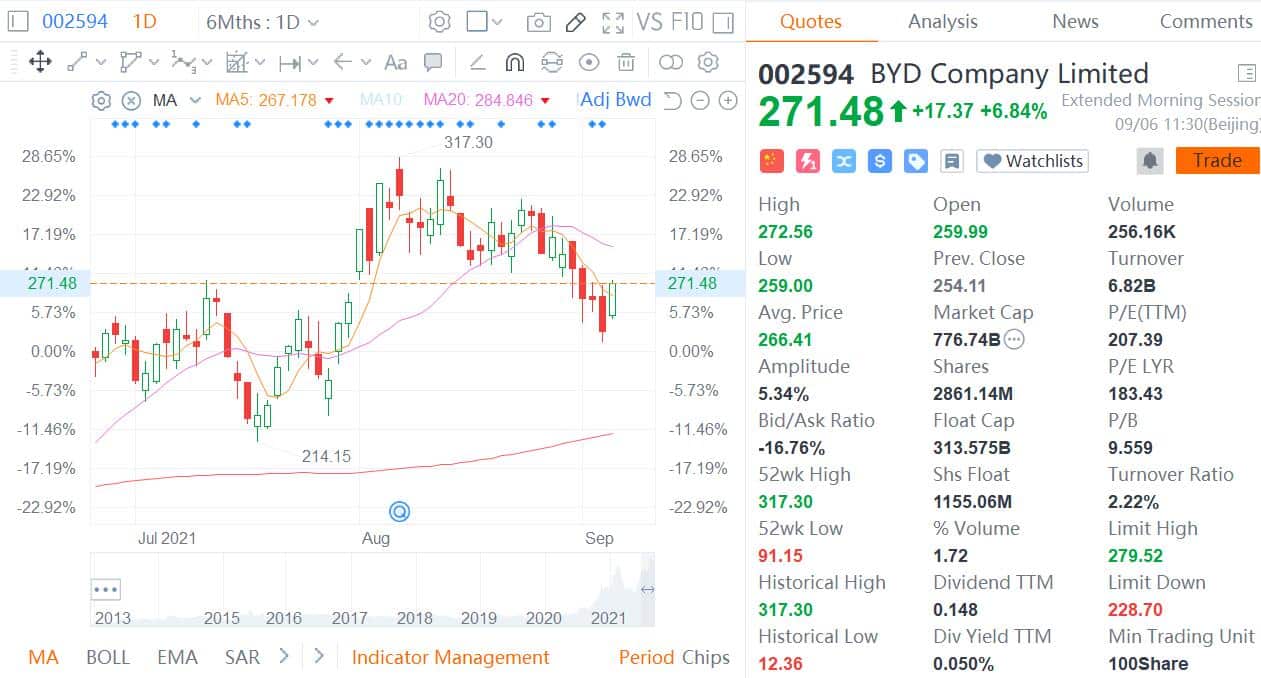 BYD said Friday that it sold 61,409 new energy vehicles in August, up 302 percent from a year ago and about 22 percent from July.
That includes 60,508 passenger cars and 901 commercial vehicles.
Among new energy passenger vehicles, BYD sold 30,382 pure electric vehicles in August, up 223 percent from 9,414 units a year earlier. Its plug-in hybrid vehicles sold 30,126 units in August, up 5,556 percent from 4,595 units in the same month last year.
From January to August, BYD sold 266,480 new energy vehicles, up 193 percent from a year ago.
The company's flagship sedan, the Han, sold 9,035 units in August, up 126 percent from a year ago and up 6 percent from July.
Sales of the BYD Han began last July, with cumulative sales to date at 110,344 units.
Han models include the Han EV, an all-electric version with an NEDC range of 605 km, and the Han DM, a hybrid model with a range of only 81 km on pure electric power.
Han EV sales in August were 6,198 units and Han DM sales in August were 2,837 units, according to updated data released by the company on Monday.
CnEVPost Daily Newsletter