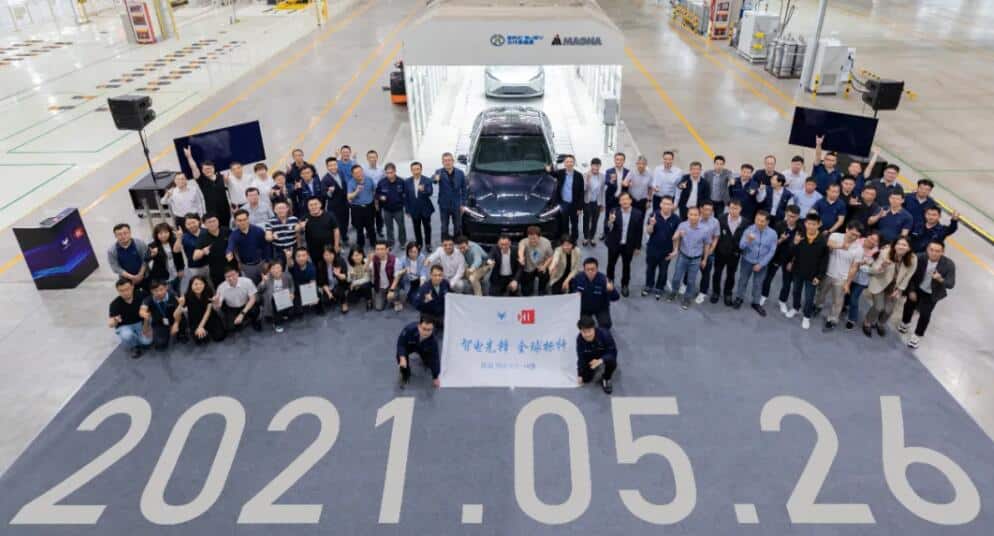 The first Arcfox α-S model equipped with "Huawei Inside" from Validation Build rolls off line from the BAIC Bluepark Magna Automobile's plant in Zhenjiang on May 26, Huawei's Intelligent Vehicle Solutions division announced on Wednesday.
The factory is a joint venture between BAIC Bluepark and Magna, which has 100 years of experience in vehicle development and manufacturing, to build a high-end intelligent manufacturing base with a world-class manufacturing standard system and highly automated equipment, Huawei said.
The Arcfox α-S, equipped with Huawei Inside, will also be engraved with the brand genetic label of "high-end, intelligent" to bring users the high-end quality of a world-class luxury car, Huawei said.
On April 17, Arcfox, the BAIC-owned EV brand, unveiled the Arcfox α-S model with a starting price of RMB 251,900 ($38,600).
The most interesting version is the one equipped with Huawei's full-stack smart car solution "Huawei Inside", which is also the first time that Huawei's technology appears on a mass-production model.
The starting price for this version is RMB 388,900 and the premium version is priced at RMB 429,900. They are expected to be delivered in November and December this year.
The model is equipped with an intelligent advanced autonomous driving system with 400TOPs of computing power.
The body is equipped with 3 LIDAR, 6 millimeter-wave radars, 12 ultrasonic radars, 9 ADS cameras, and 4 surround-view cameras.
The lower-priced version is capable of highway autonomous driving, while the highest-spec version has advanced autonomous driving and valet parking capabilities in urban areas.
Earlier this month, according to the Beijing News, orders for the Arcfox α-S model equipped with "Huawei Inside" already exceeded 1,000 units.
It is worth noting that Changan Automobile also said during its interaction with investors on May 26 that the design prototype of its E11 model equipped with Huawei Inside smart car solution has already rolled off the line and is undergoing commissioning.
Arcfox model equipped with 'Huawei Inside' have seen orders exceed 1,000 units
(Source: Huawei)
Get China EV News Directly in Your Inbox
Join our Telegram group to be alerted the moment we publish an article: t.me/CnEVPost