Tesla Model 3 burns after hitting tree in latest accident
Another accident involving a Tesla vehicle has sparked widespread concern in China.
On May 19, a Tesla Model 3 caught fire and burned after hitting a roadside tree in Guangzhou, and there has been no news of injuries, according to mydrivers.com.
The report cited a video from a car recorder saying that a black Model 3 overtook the car from the leftmost lane at a very fast speed, at which time the car speed of the vehicle where the car recorder was located was 90km/h.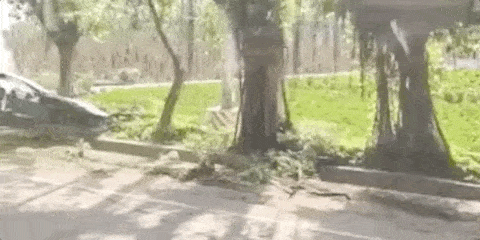 (Source: mydrivers.com)
A user suspected of being the owner said in a group chat that the vehicle was going too fast and lost control before hitting a tree, and the vehicle began to catch fire about 15 minutes later.
Local police handled the accident and the cause is still under investigation. It is unclear whether the model is an entry-level version equipped with lithium iron phosphate batteries or a version with ternary lithium batteries.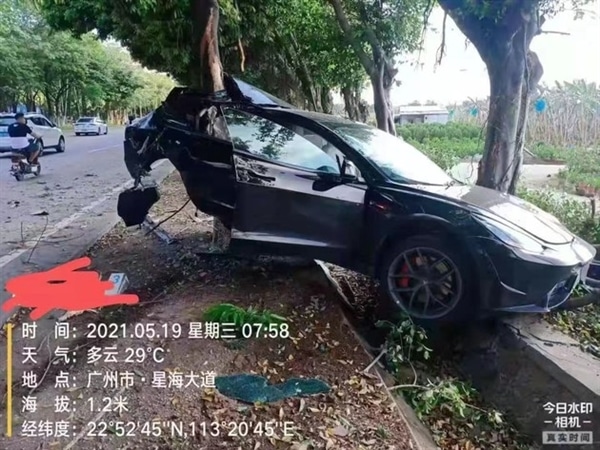 (Source: mydrivers.com)
Tesla sources said the accident was caused by the vehicle driving at high speed resulting in loss of control and a collision before the vehicle burned, according to nbd.com.cn.
However, the results of the traffic accident investigation will ultimately be subject to the traffic police or insurance company announcement, the source said.
This is the latest traffic accident involving Tesla.
On May 17, a black Tesla sedan knocked down two traffic police officers who were handling other accidents at the time on an overpass in Taizhou, Zhejiang province.
This caused the two traffic policemen to fall to the ground with injuries and the front end of the Tesla sedan was severely damaged. One of them died and one was treated at a hospital for injuries, according to a local police bulletin.
Tesla customer support said on Weibo Tuesday that it has contacted the relevant authorities and will fully cooperate with the investigation. Tesla will not disclose any more information until the results of the accident investigation are released.
A Weibo blogger said he speculated that the cause of the accident was that the owner may have taken the assisted driving feature for autopilot, although this was not officially confirmed.
Latest accident involving Tesla leaves one traffic officer dead and one injured