Geely, Farasis Energy to set up power battery joint venture
Chinese power battery company Farasis Energy announced on May 17 that it has signed an agreement with automaker Geely Group to establish a battery joint venture with a registered capital of 1 billion yuan ($155.6 million), with Geely holding 65 percent and Farasis Energy holding 35 percent of shares.
In December last year, Farasis and Geely announced a strategic partnership and a plan to establish a joint venture to jointly promote the construction of power battery capacity. Farasis' latest announcement reveals the details of the cooperation.
Farasis will be responsible for the technology, R&D and sales of the joint venture, while Geely will be responsible for the operation and management, and will assist in raising the necessary funds for the joint venture.
According to data released by the China Automotive Power Battery Industry Innovation Alliance, Farasis' installed power battery volume was 0.85 GWh last year, with a market share of 1.3 percent, ranking 10th in China.
In the first four months of this year, Farasis' power battery installed base was 0.61 GWh, climbing to the sixth largest market share in China. In April, Farasis ranked 10th with 0.09 GWh of installed capacity and 1.1% market share.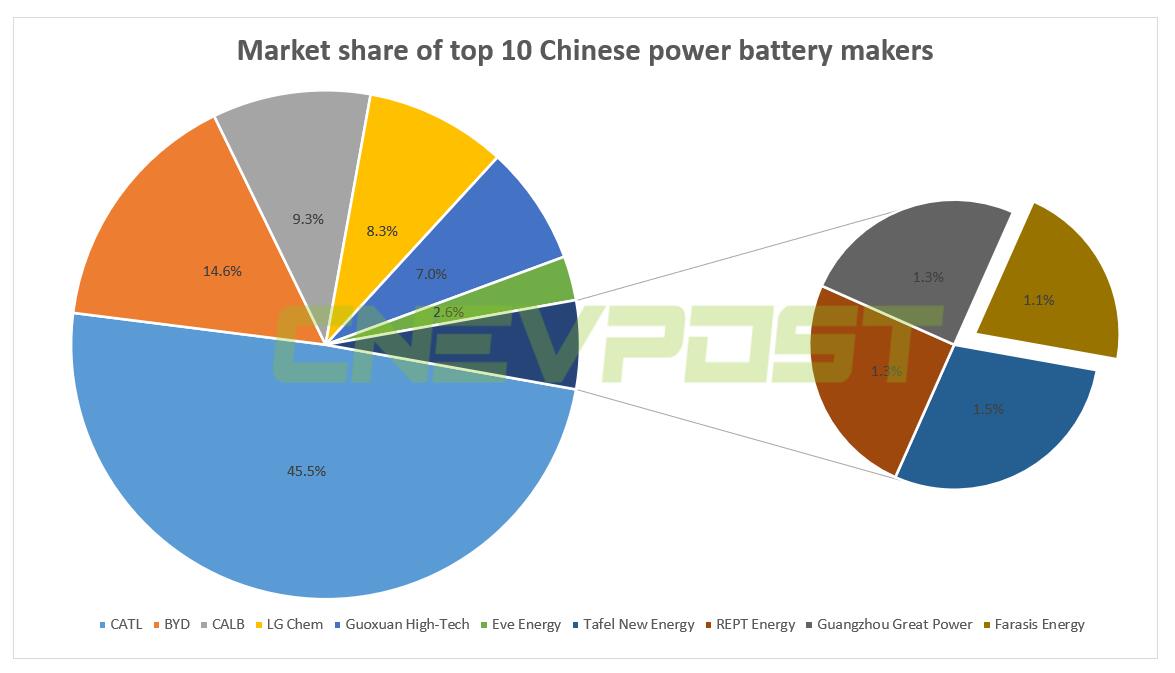 (Graphic by CnEVPost)
Farasis said its total future battery capacity, including the joint venture, will be 120 GWh. The company plans to start construction of no less than 20 GWh of capacity this year, including a new 12 GWh power battery project in Ganzhou City, Jiangxi Province.
The two sides plan to set up another joint venture in Ganzhou with a registered capital of RMB100 million, with Geely and Farasis holding 51 percent and 49 percent of the shares respectively.
Farasis was listed on the Shanghai Stock Exchange STAR Market in July last year at RMB 15.9 per share, climbing to a record high of RMB 50 late last year.
Beijing Automotive Group, Great Wall Motor and FAW Group reduced their power cell purchases from Farasis by about 99 percent last year.
Farasis' annual sales fell to RMB 1.1 billion, a sharp drop of more than 50 percent, resulting in a loss of RMB 330 million last year and a loss in its first fiscal year since going public.
Farasis shares rose more than 10 percent on Monday and 2 percent on Tuesday to RMB 28.37, giving the company a market capitalization of RMB 30.4 billion, but that's down about 40 percent from the company's peak.
China's April power battery installations at 8.4 GWh, down 7% from March