A Tesla Model 3 spontaneously combusted and exploded in an underground garage in Shanghai on January 19, prompting speculation about what kind of battery was in the vehicle.
On January 20, CATL, China's largest automotive lithium-ion battery maker and a Tesla supplier, denied the speculation that the battery was from it.
Nbd.com.cn quoted CATL sources as saying, " The Model 3 that spontaneously combusted was powered by a battery other than the lithium iron phosphate batteries we supply. "
According to Tencent News, a Tesla Model 3 exploded in an underground garage in Shanghai on the evening of January 19. A WeChat group chat showed that the Model 3 had just pulled into the underground garage when it caught fire. The owner was on his way to find security after getting out of the car when the vehicle exploded.
Pictures from the scene show that the Model 3 has been burned to the bone, surrounded by a thick white firefighting powder. As for whether the car was a model equipped with lithium iron phosphate batteries or a previous version equipped with ternary lithium batteries, it is impossible to tell for the time being.
The fire had been extinguished by the time photos of the accident were widely circulated on the Chinese Internet. No injuries or property damage have been reported.
On January 20, Tesla responded that the accident was caused by internal cell damage and short-circuit fire after the high-voltage battery at the bottom of the vehicle was hit.
Shanghai Securities News quoted Tesla as saying that according to the owner's description, he drove the vehicle into the garage and felt a collision with the chassis, and then stopped to check.
The owner returned to the vehicle to take out the personal belongings after finding smoke coming from the front of the vehicle, and the vehicle started to catch fire shortly after he left safely.
Tesla in spotlight in China as Model 3 spontaneously combusts and explodes in garage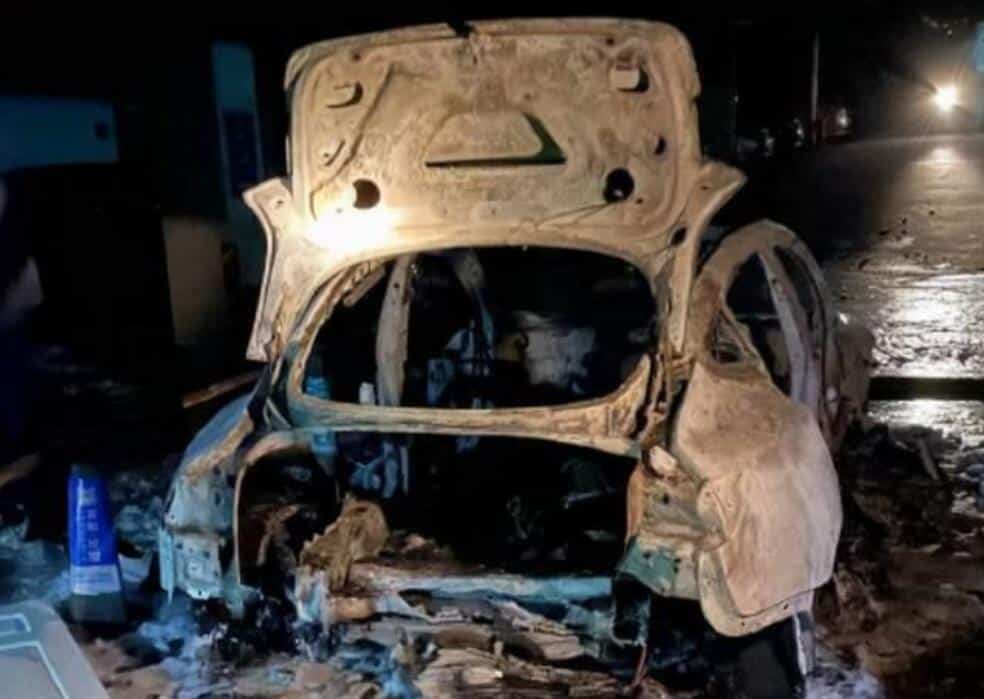 (Source: Baidu)
Get China EV News Directly in Your Inbox