As it expands its sales network and upgrades its products, Li Auto's products will reach more customers, unlock sales and remain highly competitive among the household segment, said CICC, a top Chinese investment bank, in a report released today.
CICC said it is optimistic that Li Auto's sales will continue to trend upward quarter by quarter in 2021, with full-year sales expected to reach 80,000 units.
Li Auto recently released data showing that 6,126 units of the Li ONE were delivered in December, up 31.9 percent from the previous month. The figure is a record high for monthly deliveries and exceeds market expectations.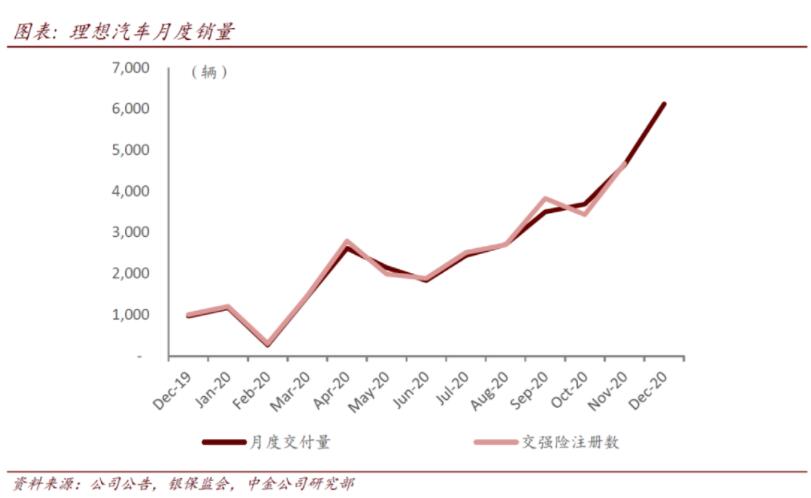 Li Auto delivered 14,464 units in the fourth quarter, up 67.0% from the third quarter. A total of 33,597 units have been delivered since the launch of the Li ONE, including 32,624 units for the full year 2020.
China's emerging automakers are taking share of traditional cars, at least in the case of Li Auto
CICC believes that Li Auto's launch of its first model, the Li ONE, which is focused on family car needs, is in a large and mid-size SUV segment that has grown significantly faster than the industry in recent years, primarily due to three main reasons.
1) Increase in the proportion of families with two children in China
2) Increasingly abundant supply of models creating demand.
3) Continued upgrading of vehicle consumption.
According to CICC, the Li ONE's attractive price point and smart EV attributes enable it to differentiate itself from its traditional competitors in the RMB 300,000 price point.
CICC cited data from the China Passenger Car Association, which showed that the Li ONE sold 4,646 units in November, placing it in the top three monthly sales of large SUVs in China in the RMB 200,000+ price range, behind only the Toyota Highlander with 9,318 units and the Volkswagen Teramont with 7,438 units.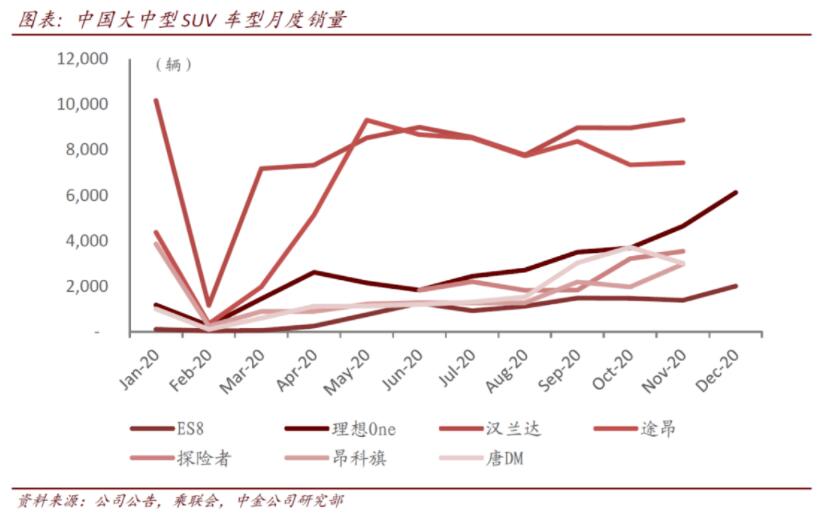 Looking at December sales, the Li ONE is expected to further consolidate its position in the top tier of the segment, and the strategic correctness of its track selection continues to be proven, according to CICC.
CICC also noted Li Auto's improved sales per store, saying its operations remain efficient.
With 52 retail centers in China as of the end of 2020, Li Auto's single-store sales exceeded 117 units in December, another improvement over the 100 units sold per store per month in September, placing it in a better position in the industry.
Li Auto's small, understaffed city showroom model has significant cost and ping efficiency advantages over the traditional 4S store model, CICC said.
CICC believes Li Auto will stick to its high efficiency of 100 units of monthly sales per store and build on that for channel expansion.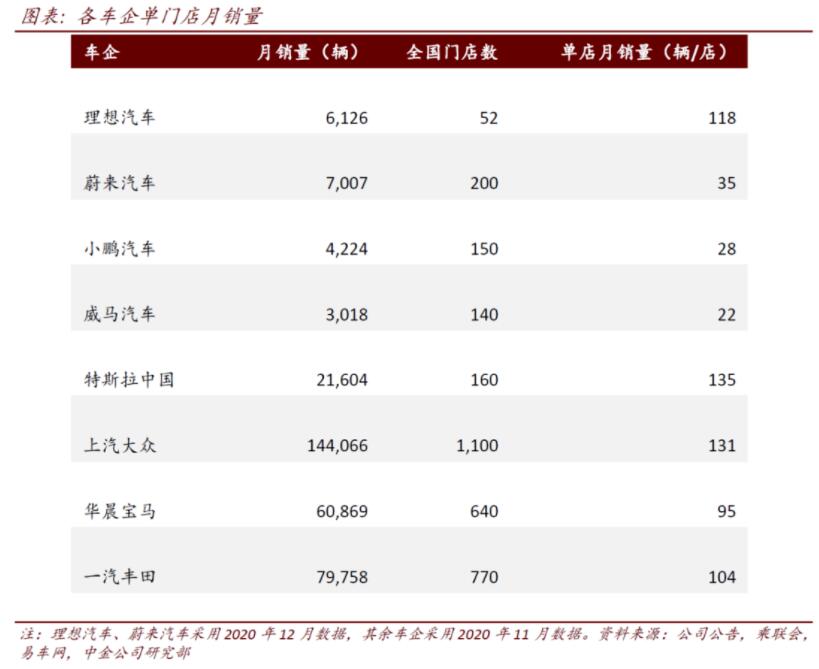 CICC said it maintains an Outperform rating on the company due to its outperforming sales performance.
CICC maintains its price target on Li Auto at $40, which represents a 39% upside to the current stock price.
Li Auto shares went up by more than 12 percent on Monday.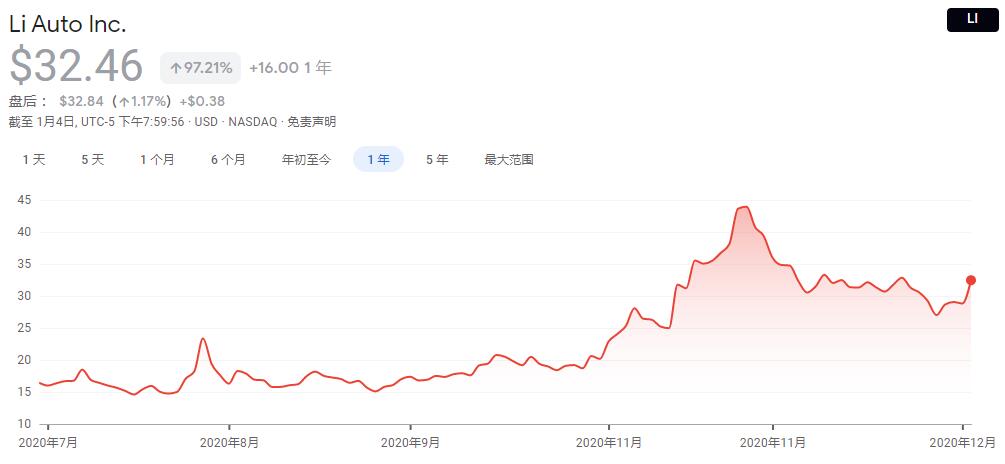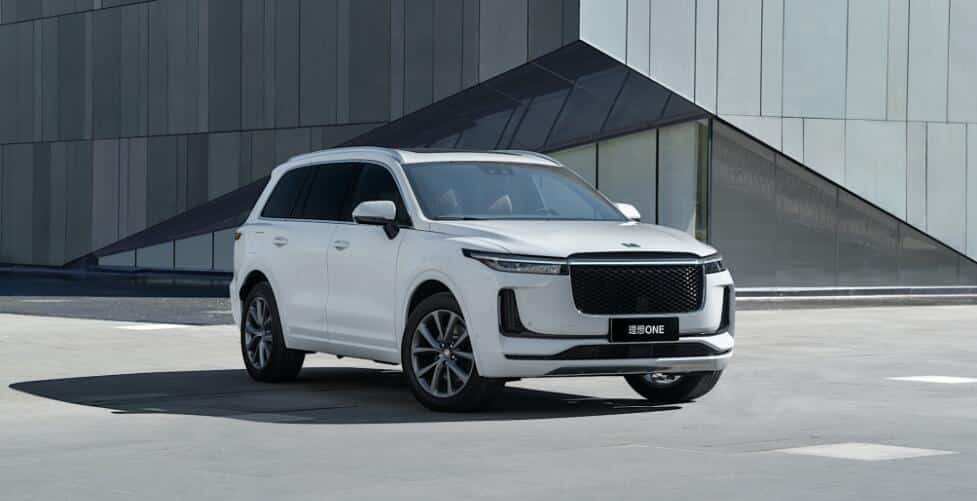 Analysts say China's NEV industry at the start of golden decade, but give NIO, XPeng, Li Auto 'sell' ratings
Get China EV News Directly in Your Inbox
Join our Telegram group to be alerted the moment we publish an article: t.me/CnEVPost